SUPERCAMP DATES & TUITION
Dear Families,
We know you're just as excited as we are for SuperCamp 2021 held on-site at universities this summer! Join us on prestigious college campuses across the U.S. for fun, friendship, learning outside of our comfort zone, and so much more. Enroll now to take advantage of special early enrollment pricing and our monthly payment plan option.
We're moving forward with our university partners and will know more this spring. We'll keep you informed as our plans develop.
In addition to our on-site programs, we'll be hosting for the second summer SuperCampU, an online SuperCamp summer program. Participants and families tell us it's just what they needed to feel inspired and motivated.
Please note that our capacity is reduced for summer 2021. We expect high interest from participants and families, so we recommend enrolling early to secure your spot.
We look forward to learning and growing with you!
Bobbi, Joe, and the SuperCamp Team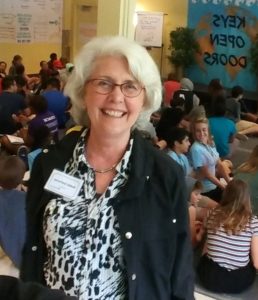 SUPERCAMP 2021 ON-SITE SUMMER PROGRAMS
Junior Forum or Senior Forum
Each of the SuperCamp programs builds on the content of the previous program and includes valuable new skills designed specifically for the relevant age group and learning level. They create a cycle of learning and growth, and returning participants add to their knowledge, deepen their understanding of SuperCamp's learning and life skills, and strengthen their foundation of excellence.
Junior Forum, ages 11-13, entering grades 6-8
Early adolescence is a pivotal time when we're beginning to develop higher order thinking skills, establish and maintain healthy social interactions, define our values, and cultivate a mature sense of self. While at SuperCamp, students set and reinforce behaviors and attitudes that prepare them for success as lifelong learners.
Senior Forum, ages 14-18, entering grades 9-12
In defining our sense of self, we're strongly influenced by our reactions to family, friends, social media, and societal norms. The positive communication, effective listening, self-reflection, habit formation, self-expression, and building healthy relationships that are part of the SuperCamp curriculum can be factors in creating a positive sense of self both as a person and as a lifelong learner. College and career readiness coupled with preparation for life after high school is the focus of this program.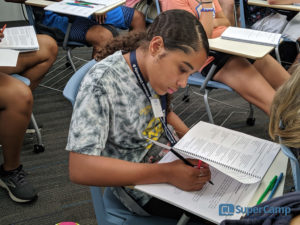 • Learning materials. Participants receive a "playbook," our interactive workbook. The playbook material is based on Quantum Learning's research on brain-friendly teaching and learning. The playbook goes home with participants and is intentionally aligned with the Making the Connection, our guide for SuperCamp parents. Families receive this guide during the two-hour Parent Workshop on Departure Day. The Parent Workshop coupled with the guide provides vital insight into the SuperCamp curriculum. Utilizing these resources promotes a common language and shared experience among family members.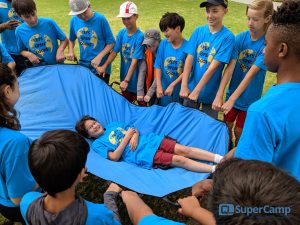 • 10 months of after-camp support. Starting in mid-August, families receive our twice-monthly Refresher Series via email. Through our Refresher Series, families have access to informative videos and additional learning materials related to SuperCamp academic and life skills. The content is scheduled intentionally based on the time of year and the feedback we've received from participants. In addition to the Refresher Series, we send two newsletters: Excellent Learner once a month (articles of interest to students and parents) and Parent Connect every other month (articles of interest to parents).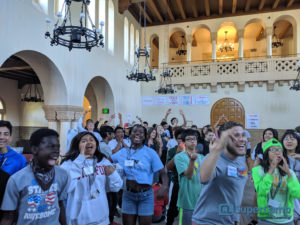 • Highly trained, caring, and committed staff. Our staff receives over 150 hours of training even before arriving on campus. The majority of our senior staff members are educators or school counselors during the school year. Staff members go through realignment workshops, where they hone their skills and review content upgrades based on research, trends in education, and parent/participant feedback. Our staff is dedicated to updating and improving the facilitation so our participants receive the most up-to-date information.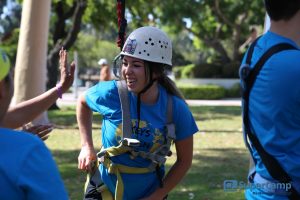 • An Outdoor Adventure Day that entails a professionally staffed ropes course with high and low events. Our Outdoor Adventure Day, also affectionately known as ODAD, functions as so much more than just another ropes course. Experiencing ODAD with our teams acts as a metaphor for our lives. How am I showing up for my team and for myself right now? Am I showing up in life the same way I am showing up in ODAD? While having fun and building relationships, we also pause for reflection regarding this metaphor. We learn from the experience with our teams, which reinforces our connections and promotes confidence in being our best selves both during camp and after camp. Powerful stuff!
As well as . . .
Bedding, sheets, blankets, pillows, pillowcases
SuperCamp T-shirt
Luggage assistance
Room and board on the university campus
AIRPORT/CAMPUS TRANSPORTATION SERVICES
We offer airport pickup/drop-off services ($45 one way, $75 round trip) for designated airports and our SuperCamp sites.
Airport pickup/drop-off services are available for SuperCamp participants only.
University of San Diego
San Diego International Airport (SAN)
3225 N Harbor Dr, San Diego, CA 92101
5.9 miles from USD – Est. 10 minutes
Santa Clara University
Norman Y. Mineta San Jose International Airport (SJC)
1701 Airport Blvd, San Jose, CA 95110
3.1 miles from SCU – Est. 5-7 minutes
University of Scranton
Wilkes-Barre Scranton International Airport (AVP)
100 Terminal Rd, Avoca, PA 18641
8.4 miles from U of Scranton – Est. 11 minutes
We recommend that parents purchase travel insurance to cover unforeseen circumstances, unless tickets are fully refundable.
JUNIOR FORUM: 7-DAY RESIDENTIAL PROGRAMS
Santa Clara University
San Jose, CA
University of San Diego
San Diego, CA
University of Scranton
Scranton, PA
Santa Clara University
San Jose, CA
University of San Diego
San Diego, CA
University of Scranton
Scranton, PA
Santa Clara University
San Jose, CA
University of San Diego
San Diego, CA
University of Scranton
Scranton, PA
Santa Clara University
San Jose, CA
University of San Diego
San Diego, CA
University of Scranton
Scranton PA
MORE WAYS TO SAVE ON SUPERCAMP
Buddy Savings – If your child has a friend who would like to attend SuperCamp, refer them to us! If the friend signs up, you receive $100 per referral toward your child's tuition and the friend you referred receives $50 toward their tuition. If your child is already registered and you have another friend to refer, please contact our Support Team at [email protected] and we'll be happy to apply your savings.
Sibling Savings – If you enroll siblings, you'll receive $75 toward each child's tuition.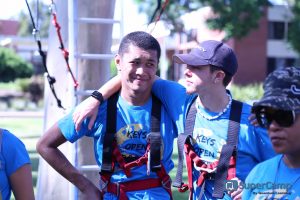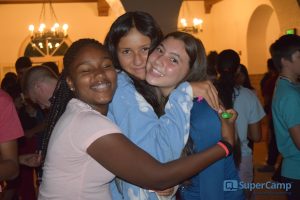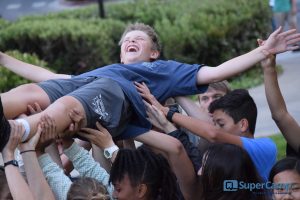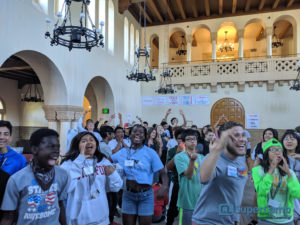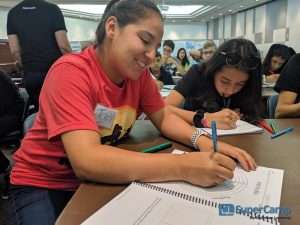 CAMP REGISTRATION PAYMENTS & CANCELLATIONS
Camp Registration Payment
 $1,000 deposit with credit card automatic payment of final balance on May 1, 2021
Cancellations
Notification of withdrawal must be in writing to SuperCamp. Cancellations for non-medical reasons will result in a cancellation fee in addition to the nonrefundable deposit, based on the date we receive notice of the cancellation. These dates are as follows:
August 1 to January 31 ……….$500
February 1 to March 31 ……….$750
April 1 to April 30 ………………$1,000
May 1 to May 31 ……………… $1,500
Beginning June 1 ………….…. Full Tuition
Once you're enrolled, you may transfer to another available 2021 or 2022 session as long as the transfer is made at least 2 weeks (14 days) prior to your original starting date. If physical on-site camps are not available in summer 2021, our cancellation policy requires transferring $1,000 of tuition paid to a SuperCamp online program or rolling over  $1,000 or the full tuition to SuperCamp 2022.