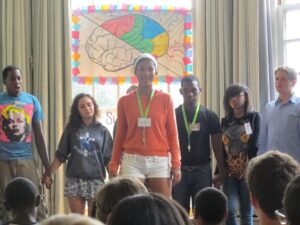 Better test scores…
A higher GPA…
These are probably the first things that come to mind when you think about academic summer camp.
But did you know that your child can receive elective credit for his or her participation? Or that your summer camp fees can count towards college tuition?
These are just a few of the hidden perks of sending your son or daughter to an academic camp this summer.
Spice Up Your Transcripts with an Elective Credit
When your child completes an accredited summer camp program, he or she may be eligible for high school credit.
This credit typically counts towards your child's high school elective requirements. Some private schools place limits on this; they'll put the camp on your child's transcripts, but they may not count it towards overall school credits.
Having an academic camp on your child's transcripts may also help them get into college. In today's competitive admissions process, you need to do everything you can to stand out. An academic summer program signals that your son or daughter has a good chance of excelling as an undergraduate student.
Unlike some summer camps, SuperCamp's 10-day Senior Forum program qualifies for one elective credit through AdvancED—and for good reason. The 90-hour program teaches students learning techniques such as note taking and how to read with greater speed and comprehension. Students also develop critical life skills and problem-solving strategies.
Save Money for College
Considering a private college for your child? SAGE Tuition Rewards often flies under the radar, but it can really stretch the value of your summer camp fees.
For every dollar you spend on a participating summer camp (up to $2,500 per year per student), your child will receive one dollar in tuition credit, redeemable at more than 310 private colleges and universities. This program is completely free; all you have to do is sign up online. Unused credit can even be transferred to siblings.
Rather than simply paying for a single summer camp experience, make every dollar count with SAGE Tuition Rewards. SuperCamp offers this unusual perk to all of its students, provided that you sign up prior to the start of your child's junior year. It's just one more reason to choose us this summer.
Bring Out the Natural Leader in Your Child
Whether your child is shy and reserved or bold and confident, there's always room to develop communication and relationship skills.
For teens who struggle in these areas, summer camp can be a game changer. Summer camps draw students out of their comfort zones by placing them in a fresh yet supportive environment. Students are challenged to build new friendships and express themselves—an experience that translates into better relationships and stronger communication skills once they return home.
While enhanced social skills are a side benefit of most summer camps, SuperCamp is unique in its emphasis on building social and emotional skills. We require all students to set aside their smartphones and other devices, so that they can focus on real world interactions. We also teach basic life skills that build confidence and connection, such as how to give a 4-Part Apology.
It doesn't stop there. For return grads, SuperCamp also offers an advanced leadership program, known as Leadership Forum. Imagine the possibility of your child attending a summer program focused solely on leadership!
The Benefits are Unlimited—Spring Savings Are Not
These are only a few of the perks of sending your child to SuperCamp. To find out more, we invite you to contact us directly at 800.228.5327, or register online. We offer a $100 discount if you enroll by April 15, so don't hesitate to get in touch.