"It didn't matter where he was standing. He was always the biggest person in the room, and I don't mean by size."
"I never knew you could be 'like a father' to so many people."
"He was incredibly generous with his time, love, and finding ways to create interesting experiences. He was always there if you needed support or advice. In short, he was my hero."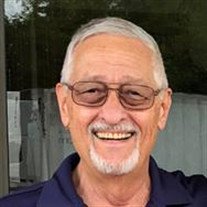 Bob (Robert) Wadsworth
These are just a few sentiments expressed when Bob (Robert) Wadsworth, a long-standing supporter of SuperCamp, passed away earlier this year. Bob and Mary, his wife of 59 years, first became supporters and advocates of SuperCamp after sending their daughter Whitney when she was a teenager in high school. Whitney had such a positive experience that they ended up sending more than 16 children, including extended family members, children of employees, and friends of their children and grandchildren.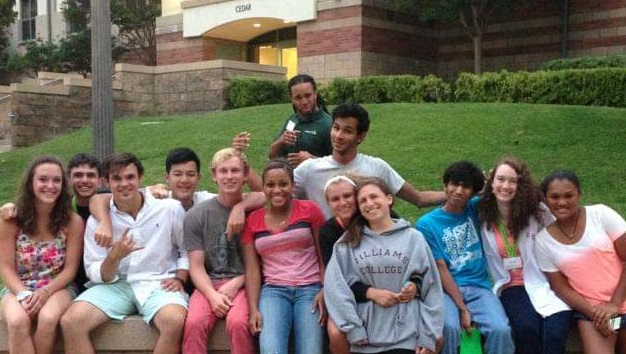 So many students, including one in this photo, attended SuperCamp
through the generosity of Bob and Mary Wadsworth.
The couple's mission of helping others started early on during their service at the Methodist Church in Evanston, Illinois, where they initially met. They were in the same youth group and later married and had two daughters. Their family grew when they took in foster children.When they found SuperCamp for Whitney and saw how much it helped her they both said, "this is working, let's send other children," and it just continued from there. "It's always been a joint effort to help children who were in need of life skills and support to help them have a better future," said Mary.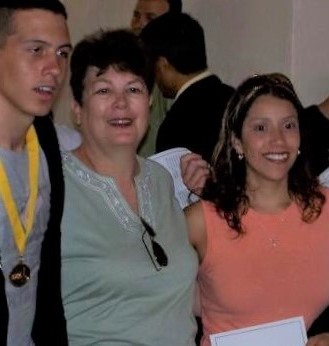 Mary with grandson Jake and his
cousin at a SuperCamp graduation
In their time of sending children to SuperCamp, Mary and Bob attended nearly a dozen graduation ceremonies. They even brought extended family members and friends because they were such big advocates for SuperCamp and wanted to show others just how much the camps benefited the children. At one graduation, they had a group of ten people join them. "I loved attending the graduation ceremonies," said Mary. "They were always so inspiring. You walked out of there with a smile on your face because you could clearly see just how excited the children were about their experiences," said Mary.
SuperCamp helps children who are struggling with issues that a lot of children face, such as going to a new school or needing help to improve their scholastic abilities. "SuperCamp doesn't use just one approach," said Mary. "It teaches kids that there are more ways to be successful and many ways to solve problems."
Mary explained that her daughter Whitney, who made some of her best friends at SuperCamp, didn't initially believe she got a lot out of the program scholastically. She later reported that she was able to utilize a tool she learned at SuperCamp to ace a test while attending Purdue University. SuperCamp also broadens children's horizons by exposing them to other children with different backgrounds and life experiences.
"The children get a sense of reality that they don't get if they don't have the opportunity to change their environment," Mary continued. "Each child has their own strengths and weaknesses and what they must do is find their own strengths. It's a message that gets implanted by SuperCamp, that they too can be successful," Mary added.
All the children that Bob and Mary sent to SuperCamp have unique success stories. After Whitney attended, she excelled in dance and later went on to join the dance team at Purdue University. She's now the mother of a nine-year-old and six-year-old and lives in Indiana with her husband Johnathan where they jointly run the family business that Bob and Mary started more than three decades ago. Their company, Innovation Energy, is a leader in delivering high-performance reflective insulation for energy conservation. Whitney has also worked as a personal trainer and life coach.
Bob and Mary's niece Kinsey attended SuperCamp three times and is now working on a program to illustrate how Alzheimer's can be delayed or lessened by learning multiple languages. Their grand-niece Alexandra Kissel is doing exceedingly well taking pre-med courses at Ole Miss. Their granddaughter Mallory Mellon graduated from the University of Wisconsin, and Cooper Lohr, a friend of their grandson, is now attending the University of America in Washington D.C. and is working as an intern.
The couple also sent their grandson Jake Castellanos to SuperCamp. In fact, Jake went four times! He went to Junior Forum, Senior Forum, and Senior Forum Leadership Team at Stanford in California, then to Leadership Forum in Colorado. Jake was taken in by Mary and Bob when he was a teenager. He had a challenging childhood growing up without much support and struggled with feeling accepted by others. Jake was initially reluctant to attend SuperCamp but ended up loving it. "I never wanted to NOT go back," Jake said. "I went from having zero confidence to growing into a much more confident person. I wanted to go every year."
Jake with some of his SuperCamp team
Jake said he remembers just about everything from each of the SuperCamps he attended including the look of the rooms, the environment, the people and playing a cup game in the cafeteria. He even remembered the names of his team leaders who meant so much to him, and is still in touch with many of the students he went to camp with. Although he wanted to become a team leader, he ended up joining the Navy and says his success in the Navy was a result of what he learned at SuperCamp.
Jake recalled the "This Is It! Key," which teaches students how to make the most of every moment, and attributes his strong communication skills, integrity, ability to talk and listen to others, and talk to groups with ease, to what he gained from attending SuperCamp. He's now out of the military after serving in 37 countries, including living in Japan, and is currently attending Strayer University and running a security company.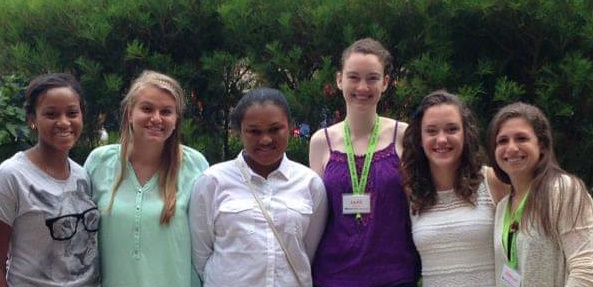 Sammy (second from left) with team members
Bob and Mary's niece Samantha Hochmuth believes that SuperCamp helped her feel more prepared for college and gain confidence in herself. "I remember leaving the camp with new friends, and a new self-confidence," Sammy said. Sammy's brother Hunter also attended the week after Sammy and she remembers crying when she saw how much more confident and empowered her brother had become.
"Seeing how much Hunter benefited from SuperCamp showed me how this camp helps others," Sammy said. She added, "I never really got to tell my uncle Bob how I feel this camp saved my life. I am lucky I had an uncle like him."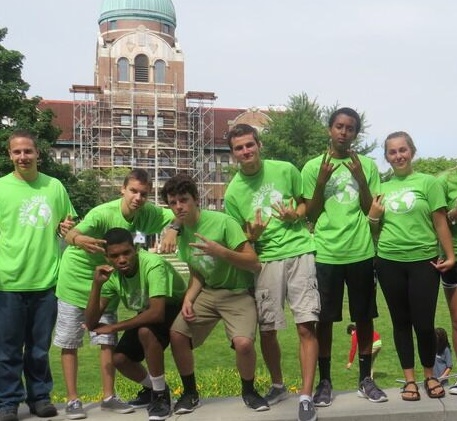 Hunter (third from right) with team members
Hunter attended SuperCamp three times including Senior Forum at Stanford in California and Loyola in Chicago, and Leadership Forum at Cal State University in San Marcos, California. "I remember my family reconnected with Uncle Bob when I was in eighth grade and offered to send both Sammy and me to camp the next summer," said Hunter. "Imagining my life without SuperCamp is impossible. I'll always be thankful for Uncle Bob giving me the opportunity to experience the spectacular things that I did at SuperCamp," Hunter continued. Both Sammy and Hunter are currently studying at the University of Wisconsin. Hunter is pursuing a career in public accounting and Sammy is a teacher.
Bob was a special man who meant a lot to many people. As a twin, Bob valued extended family relationships, and always loved bringing together family, friends and strangers to create lifelong bonds. Both he and Mary provided a sense of home to all who became part of their lives and felt a personal responsibility to help children excel in life.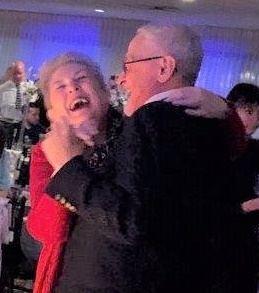 Mary and Bob
Bob and Mary also felt strongly about creating a better world with a lifelong commitment to the environment through their green energy company. Perhaps it was these ideals that motivated them to improve the lives of so many children, and ultimately leave a legacy of productive, successful, contributing members of society.
After Bob passed away, Mary decided the best way to honor him was for people to make donations to the charity of their choice or to a special fund set up in Robert's memory. The "Robert Wadsworth SuperCamp Scholarship Fund" was created so still more children can attend SuperCamp in Bob's name, and Bob's family will choose the children who will attend in the years to come. Because Bob believed in the benefits of SuperCamp and put so much of his time and resources into sending so many children, Mary knew this would be something he would be proud of.
"With SuperCamp now in its 38th year, Bob has been part of it for nearly half its time. He and the children he sponsored have become like family," said Bobbi DePorter, co-founder and president of Quantum Learning Network. "It's an honor to have had the opportunity to know Bob and Mary and help them change and improve the lives of so many children. Their contributions will not be forgotten."
Written by Laura Stadler
*        *        *
If you would like to donate to the Robert Wadsworth SuperCamp Scholarship Fund or to SuperCamp's general fund, go to www.LearningForum.org