We can't help sharing this WONDERFUL story! This is what Maribel Garcia has to say about her son's SuperCamp experience this past summer:
"There is so much to say and express about Zeke's SuperCamp experience that I don't think it will show on paper as well as it is intended. Zeke had a wonderful time at camp. He could not stop talking about the new friends he made and the life-changing moments he experienced while at camp. The first thing he showed us was a raw emotion when we met him at the airport. After letting him hug and cry for a little, I knew he had experienced something that he had lost along the way. He found his compassion and love for his family and gratefulness for what he has. My son had not hugged or shown me his emotional side since elementary school—we were all crying with him."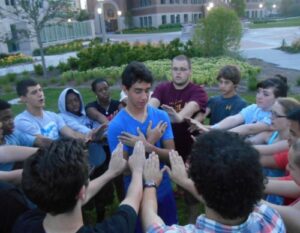 "The next day, Zeke and I sat down to talk about his days at camp. He had such emotion and joy in his voice, it was wonderful to see him so excited, positive and passionate about something. He spoke of the ropes course, the new learning techniques, the board he broke in half and how he prepared for the SAT and ACT. I can't wait for school to start so he can start using some of his new-found skills. I think this year he will experience the best school year he has ever had." —Maribel Garcia
What a story! We are so grateful to all of our campers and parents that share their SuperCamp experiences with us. If you have a story to share, we would love to hear it! 
Create stories and memories of your own! Spots are filling up quickly – enroll now!