Dan and Mary McSweeney go above and beyond to give children every opportunity to succeed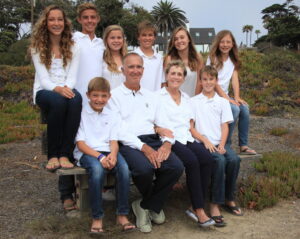 San Diego, CA – We celebrate grandparents everywhere who leave a legacy of a brighter future for their grandchildren. For La Jolla residents, Dan and Mary McSweeney, that comes in the form of education. Dan, a retired banking executive, and Mary, a retired school teacher and guidance counselor, promote education above all else for the future well-being of their grandchildren.
"We want to make sure that they have every opportunity to succeed in life," said Dan McSweeney. "We're sending these eight kids to SuperCamp. We send them to private high schools and to four-year colleges too. We are very strong proponents of education because we think that gives them the greatest opportunity for success in life. It certainly has been the case for me and my wife."
With thousands of summer camps to choose from, SuperCamp stood out from the rest for Dan and Mary. It is the same one they sent their son, Matthew, to in 1984. According to his father, Dan, Matthew returned home with "improved motivation, attitude and dedication. He was much more mature."
Matt, who went on to earn an MBA and now manages a sales organization, still uses skills he learned at SuperCamp. "Ultimately, it was about confidence. SuperCamp challenged me into areas that I didn't feel comfortable with and were out of my comfort zone. It showed me I could accomplish a lot more than I had expected of myself. It changed my perception of what I could accomplish."
This summer, Dan and Mary sent two grandchildren, Payton (PJ) and Ryan, both high school freshmen, to SuperCamp Senior Forum at Stanford University.
"Oh my gosh, when PJ came home she was a different kid. She's always been talented but never believed in herself. Now she is self-confident. And Ryan had all sorts of wonderful stories about camp. He was so impressed by the experience," said Mary. "It introduced them to parts of themselves that they didn't know were there. We knew that they would experience this amazing transformation and that's why we wanted to send them."
The McSweeneys feel that the academic, character-building and social skills taught at SuperCamp are essential to help teens succeed in school and throughout their lives. This residential academic summer camp also gives students the opportunity to experience a taste of independence on prestigious college campuses throughout the United States. "Even just flying up without their parents was a part of getting their wings," said Mary.
"It pushes them to the limits of their ability, out of their comfort zone, and shows them that they can accomplish more than they thought. I'm a fan of SuperCamp because of the attitudes that they came away with, the self-confidence and what I perceive to be their change in focus," said Dan. "It was interesting, in both Ryan and PJ's case, when we announced we were going to fund this event, both said 'oh no.' But after the first night, it was 'this was fine, but I'm looking forward to the end.'  The very next night it was 'wow, this is the best thing I've ever done.'"
They have already re-enrolled Payton for the Leadership Track at Stanford next summer and enrolled the remaining two grandchildren, a niece, and a nephew for the SuperCamp Senior Forum at Stanford, plus three grandchildren in the SuperCamp Junior Forum at Loyola Marymount University, for a grand total of seven children attending SuperCamp 2014.
When asked what she was looking forward to at SuperCamp 2014, Payton replied, "I'm looking forward to being on Leadership Track next year because I know people who did it this year and they looked like they had a lot of fun and an even deeper experience at camp."
The SuperCamp skills she is using most now that she's back at home are "definitely the 'This Is It' Key of Excellence. They taught me to just go for it. It's helped me make a lot more friends and try out for the golf team. I'm also a lot more organized," said Payton. "I am really grateful to my grandparents and glad that the rest of my family will get to go next year."
Since her return from SuperCamp this summer, Payton's parents have seen these changes as well. "The first thing she did after camp was give me a big hug and apologize for being a turkey. It broke through the rebellion and helped her realize we are there to love and support her. She's much more humble and has a much better idea of who she wants to be," said Matt. "She didn't want to try out for the golf team at school before she went to camp. She was afraid because she didn't know anyone or think she could make the team. But she did and now she's undefeated. She used to wilt under pressure. Now she's performing well and wants to compete. She's not going to let what someone else thinks control her destiny."
Dan and Mary McSweeney have set the bar high as grandparents and mentors for the children in their lives, and SuperCamp is proud to be part of their family legacy. "I'm just amazed with the program. I wish I'd known about it when I was a guidance counselor," said Mary.
###
About SuperCamp:
SuperCamp is the world's leading academic and life skills summer camp. For more than 35 years, SuperCamp has helped students increase their grades, confidence and motivation. During these intensive summer camps, students acquire the academic and life skills necessary to compete in the 21st century. SuperCamp has made a difference in the lives of over 75,000 graduates worldwide. For more information, please visit www.SuperCamp.com or call 800.228.5327.