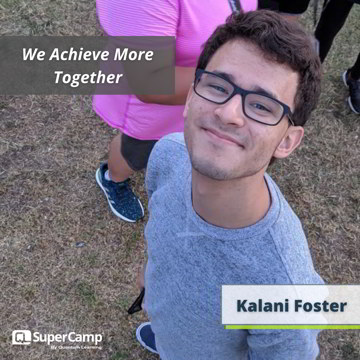 Meet Kalani
Kalani is an undergrad student at New York University. The acceptance rate for NYU's class of 2023 was an astonishing sixteen percent, so we say well done Kalani! Since his admission into NYU, Kalani has maintained an exceptional GPA and completed his first semester with a 4.0, placing him at the top of his class. As part of his NYU undergrad program, Kalani has been able to enjoy the experience of studying abroad at the University of York in England. Currently, he's continuing his studies in York and cherishing his time in the UK, but is also excited to continue learning and growing stateside on NYU's campus next fall.
Considering what's important to Kalani, we can clearly see that he values his education and personal growth. Along with that Kalani deeply cherishes his friendships. He draws inspiration and motivation from those with whom he chooses to spend his time.
Prior to Attending SuperCamp
Kalani was curious to discover what kind of experience he would have at SuperCamp. Thinking about his thoughts before attending Junior Forum, Kalani remembered that "as a middle schooler, the appeal was really just being away from home with other people that I can talk to." Like many of us attending summer camp for the first time, Kalani's initial interest was gaining some independence away from home and creating new friendships.
From his first session in 2012 and the three summers that followed, Kalani has gained and maintained a community built from SuperCamp friendships and shared experiences.
The Shift
When asked to share more about the impactful moments from his time at camp, Kalani made a special note of the connections he made. He went on to say that participating in SuperCamp "introduced me to other like-minded people who are really focused on improving themselves and on their educational growth. I still keep in touch with a lot of them because we've made this journey together." Having the support of others is truly priceless, especially when their support not only allows you to feel validated, but also encourages you to be your best self.
Along with gaining lifelong friendships and a community of support, Kalani was also impacted by his new-found confidence and still remembers the positive culture surrounding this. When introduced to Kalani, you wouldn't guess that he ever struggled with goal setting or self-doubt. While thinking about his time at SuperCamp, Kalani remembered initially having trouble with feeling confident about his choices and goals, but that quickly changed because he was "surrounded by people who have that confidence for you. Even if it was wavering at first, you're surrounded by all of this positivity, and you start to believe it yourself." The people surrounding us often make the biggest impact.
Kalani always had personal goals in mind, but struggled with believing in his ability to achieve those goals. While learning in an environment enriched with positivity and team collaboration, Kalani felt empowered to work toward his goals . . . and he had big ones, some of which he's already achieved!
The Impact
The friendships made at SuperCamp enable us to bring the fun, positivity, and momentum gained from camp into our lives at home, promoting positivity that spreads into all areas of our lives. Kalani believes that keeping in touch with friends from camp has added value to his life . . . "Quite frankly, this tight-knit community that SuperCamp gave me as a camper has really helped me today."  His relationships from SuperCamp have created a much-needed support system and accountability check, empowering him to accomplish the goals he has set for himself.
One friend in particular is Faith. Kalani and Faith spent three summer sessions together at SuperCamp. They were brought together simply because they were both attending the same session and soon found out that they shared many beliefs and values. Both value friendship, collaboration, and striving toward academic excellence. Even when summers came and went, the two kept in touch virtually, sharing in each other's successes and helping one another through difficult choices concerning school and relationships. Kalani is able to make responsible choices on his own, but having the support of a close friend, who has shared life-changing experiences with you, makes those choices that much easier.
Kalani's Story and the Key of Ownership
Kalani's story in relation to the 8 Keys of Excellence exemplifies the Key of Ownership. Ownership relates to being responsible for our thoughts, feelings, words, and actions, and owning the choices we make and the results that follow. Kalani consistently works toward being his best self and achieving his goals. In doing that, he expresses confidence and owns every choice along the way. He's acquired high levels of confidence in his own abilities and in the people and community with whom he surrounds himself.
Kalani's Future is Bright
Kalani's short-term goals are very much driven by his academics. Ultimately, he would really "like to graduate college with a good GPA."  As we already know, Kalani is definitely off to a successful start. For long-term goals, Kalani is envisioning his future "as an environmental policy analyst." He hopes to devote his work to finding solutions and making a positive change in the world of environmental policy, thus making the world a better place for all. We are confident he'll succeed!