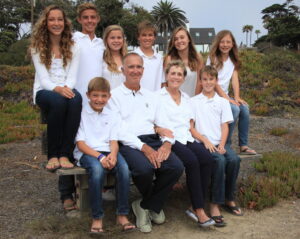 In 1984, La Jolla residents Dan and Mary McSweeney sent their teenage son Matthew to SuperCamp. Then only in its third year, the summer camp's impact was strong and Matthew was changed by his experience that summer.
Matthew recalls … "SuperCamp challenged me, pushing me into areas that were previously way out of my comfort zone. It totally changed my perception of what I could accomplish!"
Thirty years later, the family's connection to SuperCamp remains strong.
Now a busy sales manager for a large  company, Matthew still uses the skills he learned at summer camp so many years ago—and his children are now acquiring those same skills and more.
In 2013 Matthew's parents, Dan and Mary, sent his children, Payton (PJ) and Ryan, to SuperCamp's Senior Forum at Stanford University. Like their dad, they returned from their summer camp experience forever changed.
"When PJ came home, she was a different kid," says her grandmother. "She's always been talented but never believed in herself. Now she's a self-confident young lady. And Ryan had all sorts of wonderful stories about his summer camp experience—it made a big impression on him. SuperCamp introduced both of them to wonderful parts of themselves that they didn't know were there."
Matthew has also seen changes in his children. "The first thing PJ did after summer camp was apologize for being a turkey," says Matthew. "It broke through her teenage rebellion and helped her to realize we're there to love and support her. She's more humble and has a better idea of who she wants to be. Before SuperCamp she didn't want to try out for the golf team. After SuperCamp she tried out and made the team—and now she's undefeated! She used to wilt under pressure—now she wants to compete, and performs well!"
PJ and Ryan's grandfather adds, "SuperCamp pushes teenagers out of their comfort zones—and shows them that they can accomplish much more than they ever thought. I'm a fan of SuperCamp because of the positive attitudes the kids come away with, their increased self-confidence, and what I perceive to be their change in focus."
These changes came in spite of the fact that Ryan and PJ initially resisted the idea of going to an academic summer camp. It took two days at Stanford for them to fully dive in, but both students now consider SuperCamp the best experience of their lives.
Dan and Mary have enrolled PJ in Leadership Track at Stanford this summer. They're also sending two more grandchildren, a niece, and a nephew to SuperCamp's Senior Forum at Stanford and three grandchildren to SuperCamp's Junior Forum at Loyola Marymount University. This makes a grand total of eight McSweeney kids attending SuperCamp 2014!
"We want to make sure they all have every opportunity to succeed in life," said Dan. "To do that we're sending these kids to SuperCamp, we send them to private high schools, and to four-year colleges, too. We're very strong proponents of education because we think it gives kids the greatest opportunity for success in life. It certainly has been the case for our family."
Give your children or grandchildren the gift of confidence this summer. Call 800.228.5327 for more information or enroll online.