Along with having the honor of being a Best Delegate for the Model United Nations, Ibrahim was a model SuperCamper—two years as a camper from 2009-2010, then later as a Team Leader.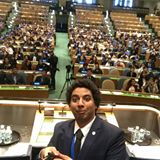 Ibrahim El-Kazaz at the United
Nations (from Facebook)

Although at first he was not thrilled about attending—he thought it was a camp about heroes—on day one he fell in love with SuperCamp. At opening session he saw return campers who happened to be on the leadership track stand on chairs cheering others on, and he went along with it. He realized that he was the only new camper who did that.
SuperCamp further encouraged Ibrahim to step out of his shell. He became an even more positive person and gained more confidence in himself. This confidence led to his applying to join the Model United Nations in ninth grade. Since, he has had the opportunity to travel around the world and attend Model UN Simulations in Europe, the Middle East, East Asia, and the United States.
Ibrahim made the transition from camper to Team Leader in 2014. He loved camp so much he wanted to be a part of being that positive role model to campers. He said the transition from camper to Team Leader was incredible for him. During staff training he got to see inside of SuperCamp and how everything is on purpose.